Vydate®10G Emergency Authorisations update – February 2021
The AHDB have informed Corteva Agriscience that none of the four Emergency Authorisations submitted for Vydate 10G have been granted by HSE.
These had been to support use in:
Potato: In furrow application for FLN and spraing suppression
Potato: PCN in short season crops (<119 days)
Carrot and Parsnip
Onions, Garlic and Shallot
Currently the decision on Emergency Authorization for use on sugar beet is still to be determined.
For further clarification, please contact the AHDB should you require additional information.
All full, part full and empty Vydate 10G Ecolite stock should be returned to your distributor supplier by the 15th April, to allow sufficient time for the supply chain to meet the 30th April deadline for removal of Vydate 10G stock from the market.
---
Loss of Vydate®10G authorisation – January 2021
It is with great disappointment to learn that the UK application for re-authorisation of Vydate 10G for use in 2021 has not been successful.
Corteva AgriscienceTM received a communication from CRD (Chemicals Regulation Division) late on 24 December to inform them that Vydate® 10G has not been re-authorised for sale, distribution and use in the UK beyond 31 December 2020.  There is no grower use-up-period beyond that date.
CRD have granted an amendment to allow the disposal and storage of Vydate 10G until the 28 February 2021.
Stakeholder groups have submitted a number of applications for Emergency Authorisation approval, for use in key sectors, where there are no alternative solutions. These applications are currently being evaluated, the outcome of which is not expected before the end of January 2021.
Growers have been extremely diligent in supporting the NSP (Nematicide Stewardship Programme) Protocol for the safe use of nematicides over the past five years, participating in training and adapting machinery and practice to meet NSP guidance and now Red Tractor Standards.  It is therefore extremely disappointing to learn that the care and attention by UK growers has not been successful in helping to maintain the ongoing use of Vydate 10G.  The support by growers will continue to be encouraged by the NSP for the remaining nematicide granule, Nemathorin®.
For more information contact Corteva UK Ltd on 0800 6898899 or ukhotline@corteva.com.
---
Get ready for Red Tractor audits in root crops – February 2020

The Nematicide Stewardship Programme (NSP) Best Practice Protocol is now part of the Red Tractor audit process. This applies to combinable crops and sugar beet and fresh produce standards.
Agronomist and Red Tractor representative, Simon Alexander, outlines the what potato, sugar beet, carrot and parsnip growers who apply granular nematicides need to do to comply.
"The staff applying granular nematicides must complete relevant training on the NSP Best Practice Protocol. This can be done online, through the nematicide stewardship e-learning module available on the ARTIS website, which includes a printable certificate to show at a Red Tractor inspection," he says.
"Applicators need to be checked before the planting season begins, and on each day of use during planting. It's important to record each check, so you have them to hand for inspections."
Simon explains in each field, a designated area should be used to fill hoppers, so the area can easily be checked for spillages.
"Treated fields should be checked 24 to 48 hours after application, to make sure there haven't been any negative effects on wildlife," he adds.
It is also important to ensure applicators can turn off the flow of granules before the row end, which isn't necessarily the case for applicators that were made before 2017. Engineer Joe Allen explains there are various options for achieving this.
"Applicator shut-off can be achieved manually, using either a cable clutch or an electric clutch.
"Alternatively, it can be achieved using an electric drive, or as part of a precision farming approach," says Joe.
---
Launch of new online granular nematicide training – January 2020

A new updated online nematicide training resource, completion of which is now a requirement to meet Red Tractor standards, is now available for potato, sugar beet, carrot and parsnip growers who apply granular nematicides.
Patrick Mitton, chair of the Nematicide Stewardship Programme (NSP), explains that the new streamlined training resource produced by ARTIS, the NIAB training platform, offers straightforward stewardship guidance on the safe use of granular nematicides.
"The training takes approximately 20 minutes to complete, and is in a one stop, easy to use module which includes information and questions to complete. Once finished, it is possible to print a certificate, ready for a Red Tractor audit," says Patrick.
"The training covers the full NSP best practice protocol, including how to protect the operator, the checking and calibrating of the applicator and protecting the environment and wildlife, during and post application."
Applying granular nematicides in line with the NSP best practice protocol became part of the audited Red Tractor standards for fresh produce, combinable crops and sugar beet standards in October 2019. Patrick explains that completion of the online training will form one of the key measurables to show compliance with the standard.
There are also BASIS points available upon completion of the module.
The training can be accessed online: http://nspstewardship.co.uk/
---
New online granule nematicide training module launched – February 2019

With potato planting just around the corner for many, the launch of the second granule nematicide training course module is set to help operators and growers refresh their knowledge on best practice use of nematicides.
The new module, developed by the NIAB training platform, ARTIS, explores in detail the stewardship steps that should be taken when applying these products, while offering BASIS and NRoSO points for participants.
Patrick Mitton, chair of the Nematicide Stewardship Programme (NSP), explains this free module is a welcome addition to the suite of NSP-funded online courses, which aim to ensure these important products are being used responsibly.
"The course is suitable for all farm staff and operators who apply nematicides, to ensure that they're applied efficiently, accurately and safely," he says.
"The module explains how to reduce the risk to the operator. It also explores how to minimise the environmental impact of nematicides, including implementing an environmental checklist, the process of cleaning down the equipment and post application field assessment," he says.
By commissioning this project, the NSP aims to help raise awareness of the NSP protocol among a wide range of people and ensure that a permanent training resource is available.
"These products are vital to the UK potato industry and by adopting these practices we hope that they will be available for many seasons to come," says Patrick.
---
New AHDB PCN soil sampling guidelines – October 2018

The NSP is proud to support the new AHDB PCN soil sampling and laboratory guide.
Patrick Mitton, chair of the Nematicide Stewardship Programme, says:
"The new PCN sampling guide is a welcome update to the understanding of PCN detection, management and control.
"The guide is an important contribution to knowledge exchange, bringing together the latest scientific research and practical experience of sustainable integrated management techniques, which will be of importance to both advisors and growers alike."
To read the full story on this, click here.
---
Press release: New nematicide e-learning course launched

April 2018
The potato industry is being urged to take part in a free interactive e-learning course on best practice nematicide usage that has been launched by the NSP and ARTIS.
With the cold and wet weather delaying planting and nematicide applications in some areas, now is the perfect time to refresh knowledge on responsible application.
"The new online tool aims to encourage and increase the adoption of nematicide stewardship," says Dr Sharon Hall, chair of the Nematicide Stewardship Programme (NSP).
"It's suitable for all farm staff and operators who handle nematicides, to ensure that they're applied efficiently, accurately and safely, protecting the consumer, the operator and the environment," she explains.
Developed by ARTIS, the programme will consist of three short 30 minute online modules, the first of which is available online now at www.artistraining.com/e-learning, and focuses on analysis of soil type, potato cyst nematode counts and variety choice when deciding whether to use a nematicide.
"The courses are designed to build upon the information delivered at the ARTIS Nematicide Stewardship half day courses, which have seen over 1,295 participants to date," she explains.
"Through commissioning this project, we hope to bring training in best practice use of nematicides to a wider range of participants, and to ensure a permanent up to date resource is available to all.
"We believe that adoption of stewardship practices can have a positive effect on the overall use and safety of these products, which are vital to UK agriculture."
More information on the NSP's e-learning course and access to best practice advice videos on potato cyst nematode control can be found online at www.nspstewardship.co.uk.
---
Press release: Nematicide Stewardship Programme announce new training partnership at BP2015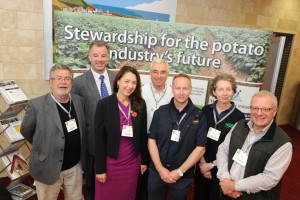 The Nematicide Stewardship Programme (NSP) announced a new training partnership with the industry training initiative ARTIS at BP2015, Harrogate 12 November 2015.
"We are excited about the training partnership with ARTIS," says NSP Chair, Dr Sharon Hall. "The use of Nematicides remains critical to many growers in producing a quality product and maintaining current rotations and this new partnership will deliver high quality training on a sustainable basis to the industry".
The winter programme of operator training workshops takes place in throughout the country and will be provided for free of charge while funding is available. Places can be booked at www.artistraining.com
The NSP group is a joint initiative that brings together the agrochemical companies Certis, DuPont and Syngenta (who have provided funding to establish the workshops). They are working with other NSP members AHDB; AIC; Fresh Potatoes Suppliers Association; NFU; Potato Processors' Association; and Richard Austin Agriculture Ltd  to ensure these vital products remain available for future use on potatoes and other key root crops.
Aimed at those who apply the pesticides in the field and relevant to agronomists, farm owners, farm managers and contractors; the training course is the basis of the Nematicide Application Protocol in the Red Tractor Crop protocols for potatoes, onions, parsnips and carrots.
"It's crucial for all operators to attend," added Dr Hall. "Industry has requested that Red Tractor Assurance incorporates a requirement into its standards specifying that all staff applying nematicides must have completed the course by March 2017."
The use of nematicides remains under considerable scrutiny, not only from Europe but from environmentalists, health professionals and the general public. Operators need to ensure they are fully up to speed with the correct way to both handle and apply these chemicals.
"Potato Cyst Nematode (PCN) is arguably the biggest long term issue for the potato industry," says AHDB Potatoes Head of Knowledge Transfer, Philip Burgess.
"It's vital all the available tools to control this pest are used effectively and responsibly. NSP is an excellent example of the entire industry coming together to ensure this. Operators who attend will get consistent messages on best practice and will be able to fully comply with stewardship.
"I'd urge all businesses to ensure that they take advantage of the workshops before the funding runs out. After this time they will have to pay in full for the essential training."
---
Press release – MAY 2015
New group to support farmers applying nematicides
A new stewardship group plans to work alongside farmers and operators to ensure best practice for all granular nematicide applications this spring and into the future.
The newly-formed Nematicide Stewardship Programme (NSP) is a joint initiative that brings agrochemical companies Certis, DuPont and Syngenta together for the first time, and includes cross industry support geared to ensure these vital products remain available for future use on potatoes and other key root crops.
Launching a user protocol, a series of workshops aimed at educating users, a tractor cab sticker warning users to 'stop' three metres before reaching the row end and an eye-catching logo, the group says it's determined to work to promote the continued safe application of this product range.
"We're coming together to pro-actively work within the industry to demonstrate best practice," says Neil Beadle, DuPont, one of the NSP's spokesmen.  "There's no doubt that we need to reach out to all operators, be they farmers, contractors or farm workers, to ensure they are fully up to speed with the correct way to both handle and apply these chemicals."
In common with many 'actives' the nematicide product group has come under the scrutiny of European legislators who are increasingly reducing the choices open to farmers keen to protect their crops from a wide range of pests, weeds and diseases.
"We must use every opportunity to ensure, as always, that products are used responsibly, cost-efficiently and in accordance with the manufacturers' recommendations," says Neil.
"We're leading the market from the front.  For example, by March 2017, we're saying that all applicators must be fitted with a device in cab that allows the operator to shut off nematicide granule flow at least 3 metres from the end of each row. This is to ensure no granules are left on the surface as the machine is lifted and turned.
"For those applicators fitted with a hydraulic or electric motor this should already be possible. For those applicators driven by a land or spider wheel an electronic clutch can be fitted to the applicator drive shaft to enable remote shut off."
The NSP will be running a series of workshops this spring, and again next autumn, aiming to ensure all operators are fully up to date with the latest legislation, and supplied with the correct information that ensures the products are applied accurately and safely.
In addition to the three metre cut off before reaching the row end when applying nematicides, the newly approved protocol, at the centre of these workshops, includes the following key messages:
Growers must demonstrate that advice has been sought from a BASIS qualified agronomist prior to the purchase and use of a nematicide. Recommendation sheets should be available for each treated field;
Operators must be qualified to apply granular nematicides (NPTC PA4 or PA4G certification). By March 2017 staff applying nematicides must have completed the Industry Stewardship Training module;
Growers must demonstrate that the granule applicator has been calibrated and checked by a qualified engineer within the last two years:
Cassettes and cartridges (including appropriate rotors) must be appropriate for the accurate application of nematicides:
When applying nematicide growers should keep records to demonstrate that:
The applicator is checked prior to each work day, ensuring all pipework is correctly fitted, the hopper bungs are in place and the hopper lids are secure;
The applicator is calibrated each week;
The area treated and the product volume used match for each field.
"We'll be encouraging all the 1000-plus operators to attend these workshops, and keeping accurate records so that we can reach out to everyone applying these products," adds Neil.  "We need to ensure nematicides continue to be available to British farmers, and by encouraging stewardship and implementation of best practice, we are confident we are taking steps in the right direction."
The new NSP protocol will be included in the new Red Tractor potato protocol which will be issued this spring.
For further information please contact:
Rebecca Beaumont, Pinstone
Unit 3, The Business Plaza, Leominster, Herefordshire HR6 0LA
E-mail: r.beaumont@pinstone.co.uk
Tel: 01568 617666