Press release: Nematicide Stewardship Programme announce new training partnership at BP2015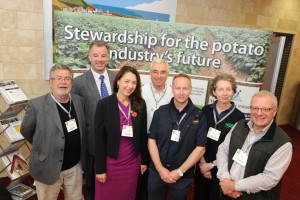 The Nematicide Stewardship Programme (NSP) announced a new training partnership with the industry training initiative ARTIS at BP2015, Harrogate 12 November 2015.
"We are excited about the training partnership with ARTIS," says NSP Chair, Dr Sharon Hall. "The use of Nematicides remains critical to many growers in producing a quality product and maintaining current rotations and this new partnership will deliver high quality training on a sustainable basis to the industry".
The winter programme of operator training workshops takes place in throughout the country and will be provided for free of charge while funding is available. Places can be booked at www.artistraining.com
The NSP group is a joint initiative that brings together the agrochemical companies Certis, DuPont and Syngenta (who have provided funding to establish the workshops). They are working with other NSP members AHDB; AIC; Fresh Potatoes Suppliers Association; NFU; Potato Processors' Association; and Richard Austin Agriculture Ltd  to ensure these vital products remain available for future use on potatoes and other key root crops.
Aimed at those who apply the pesticides in the field and relevant to agronomists, farm owners, farm managers and contractors; the training course is the basis of the Nematicide Application Protocol in the Red Tractor Crop protocols for potatoes, onions, parsnips and carrots.
"It's crucial for all operators to attend," added Dr Hall. "Industry has requested that Red Tractor Assurance incorporates a requirement into its standards specifying that all staff applying nematicides must have completed the course by March 2017."
The use of nematicides remains under considerable scrutiny, not only from Europe but from environmentalists, health professionals and the general public. Operators need to ensure they are fully up to speed with the correct way to both handle and apply these chemicals.
"Potato Cyst Nematode (PCN) is arguably the biggest long term issue for the potato industry," says AHDB Potatoes Head of Knowledge Transfer, Philip Burgess.
"It's vital all the available tools to control this pest are used effectively and responsibly. NSP is an excellent example of the entire industry coming together to ensure this. Operators who attend will get consistent messages on best practice and will be able to fully comply with stewardship.
"I'd urge all businesses to ensure that they take advantage of the workshops before the funding runs out. After this time they will have to pay in full for the essential training."
---
PRESS RELEASE – MAY 2015
New group to support farmers applying nematicides
A new stewardship group plans to work alongside farmers and operators to ensure best practice for all granular nematicide applications this spring and into the future.
The newly-formed Nematicide Stewardship Programme (NSP) is a joint initiative that brings agrochemical companies Certis, DuPont and Syngenta together for the first time, and includes cross industry support geared to ensure these vital products remain available for future use on potatoes and other key root crops.
Launching a user protocol, a series of workshops aimed at educating users, a tractor cab sticker warning users to 'stop' three metres before reaching the row end and an eye-catching logo, the group says it's determined to work to promote the continued safe application of this product range.
"We're coming together to pro-actively work within the industry to demonstrate best practice," says Neil Beadle, DuPont, one of the NSP's spokesmen.  "There's no doubt that we need to reach out to all operators, be they farmers, contractors or farm workers, to ensure they are fully up to speed with the correct way to both handle and apply these chemicals."
In common with many 'actives' the nematicide product group has come under the scrutiny of European legislators who are increasingly reducing the choices open to farmers keen to protect their crops from a wide range of pests, weeds and diseases.
"We must use every opportunity to ensure, as always, that products are used responsibly, cost-efficiently and in accordance with the manufacturers' recommendations," says Neil.
"We're leading the market from the front.  For example, by March 2017, we're saying that all applicators must be fitted with a device in cab that allows the operator to shut off nematicide granule flow at least 3 metres from the end of each row. This is to ensure no granules are left on the surface as the machine is lifted and turned.
"For those applicators fitted with a hydraulic or electric motor this should already be possible. For those applicators driven by a land or spider wheel an electronic clutch can be fitted to the applicator drive shaft to enable remote shut off."
The NSP will be running a series of workshops this spring, and again next autumn, aiming to ensure all operators are fully up to date with the latest legislation, and supplied with the correct information that ensures the products are applied accurately and safely.
In addition to the three metre cut off before reaching the row end when applying nematicides, the newly approved protocol, at the centre of these workshops, includes the following key messages:
Growers must demonstrate that advice has been sought from a BASIS qualified agronomist prior to the purchase and use of a nematicide. Recommendation sheets should be available for each treated field;
Operators must be qualified to apply granular nematicides (NPTC PA4 or PA4G certification). By March 2017 staff applying nematicides must have completed the Industry Stewardship Training module;
Growers must demonstrate that the granule applicator has been calibrated and checked by a qualified engineer within the last two years:
Cassettes and cartridges (including appropriate rotors) must be appropriate for the accurate application of nematicides:
When applying nematicide growers should keep records to demonstrate that:
The applicator is checked prior to each work day, ensuring all pipework is correctly fitted, the hopper bungs are in place and the hopper lids are secure;
The applicator is calibrated each week;
The area treated and the product volume used match for each field.
"We'll be encouraging all the 1000-plus operators to attend these workshops, and keeping accurate records so that we can reach out to everyone applying these products," adds Neil.  "We need to ensure nematicides continue to be available to British farmers, and by encouraging stewardship and implementation of best practice, we are confident we are taking steps in the right direction."
The new NSP protocol will be included in the new Red Tractor potato protocol which will be issued this spring.
Ends –
For further information please contact:
Sarah Peacocke, Pinstone Communications
Unit 3, The Business Plaza, Leominster, Herefordshire HR6 0LA
E-mail: sarah@pinstone.co.uk
Tel: 01568 617661 or 07467 956340